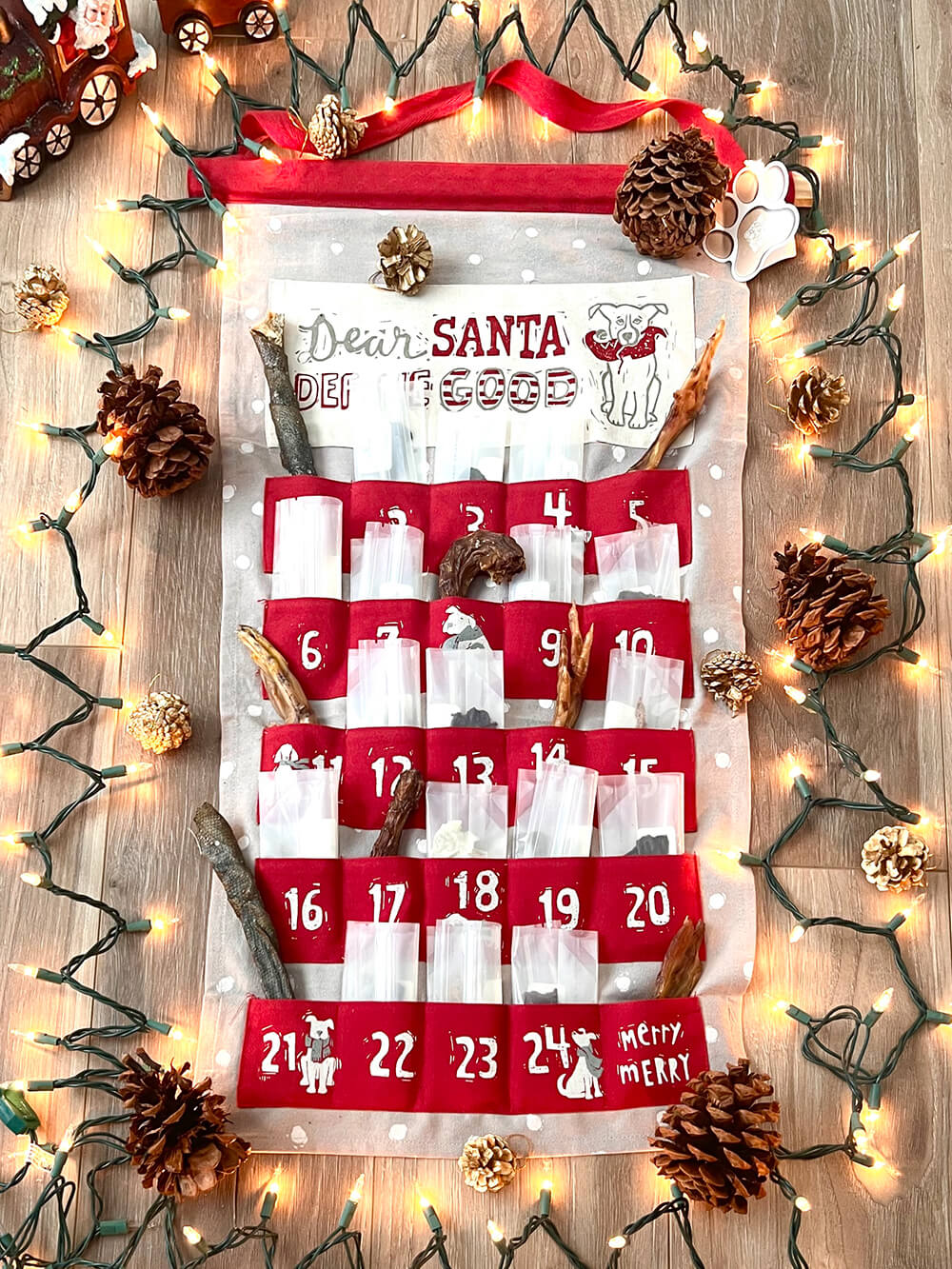 • 8 chews & 17 sample sized treats
• 100% cotton & reusable calendar
ADVENT CALENDAR REFILLS ONLY
• 8 chews & 17 sample sized treats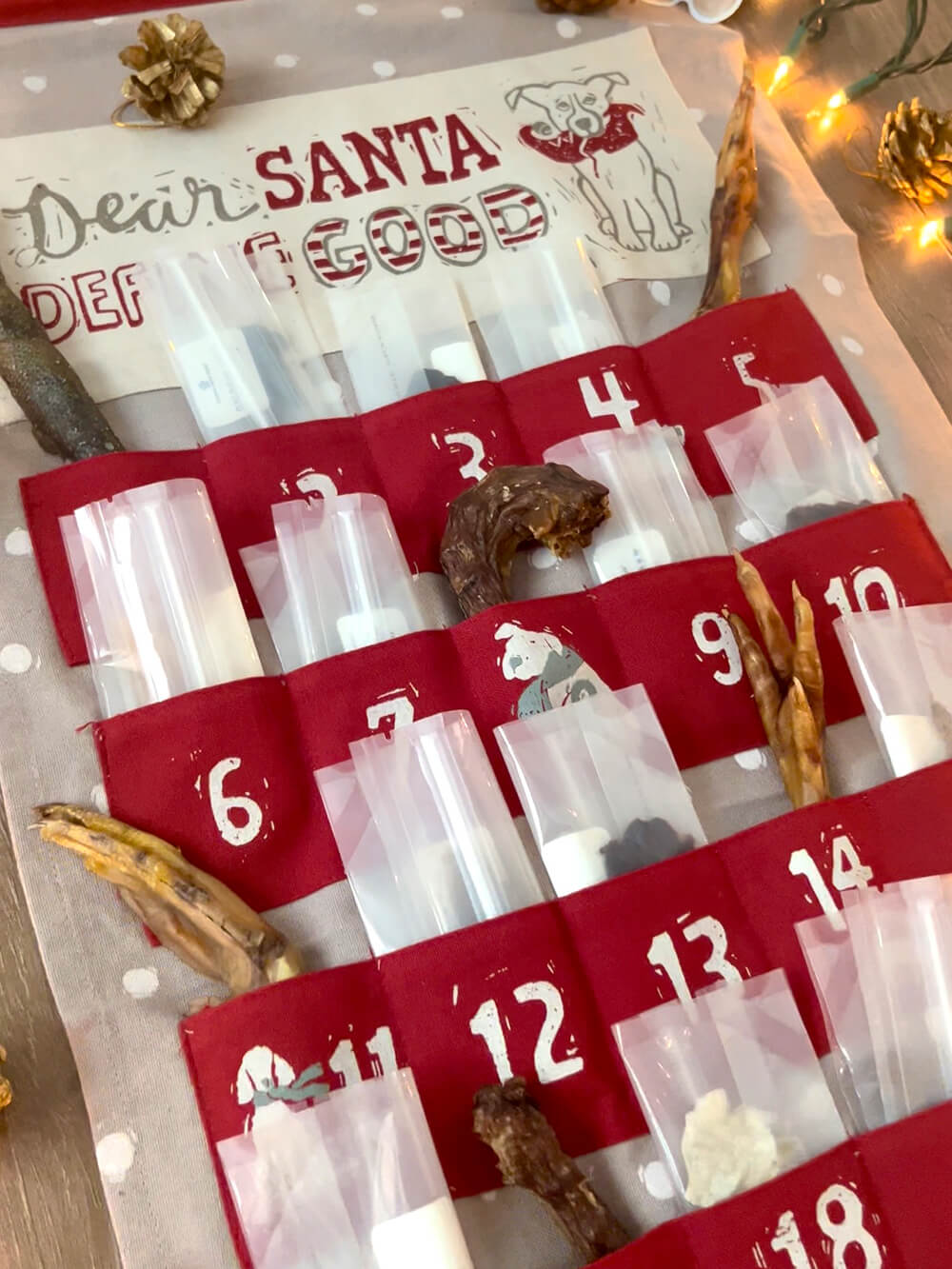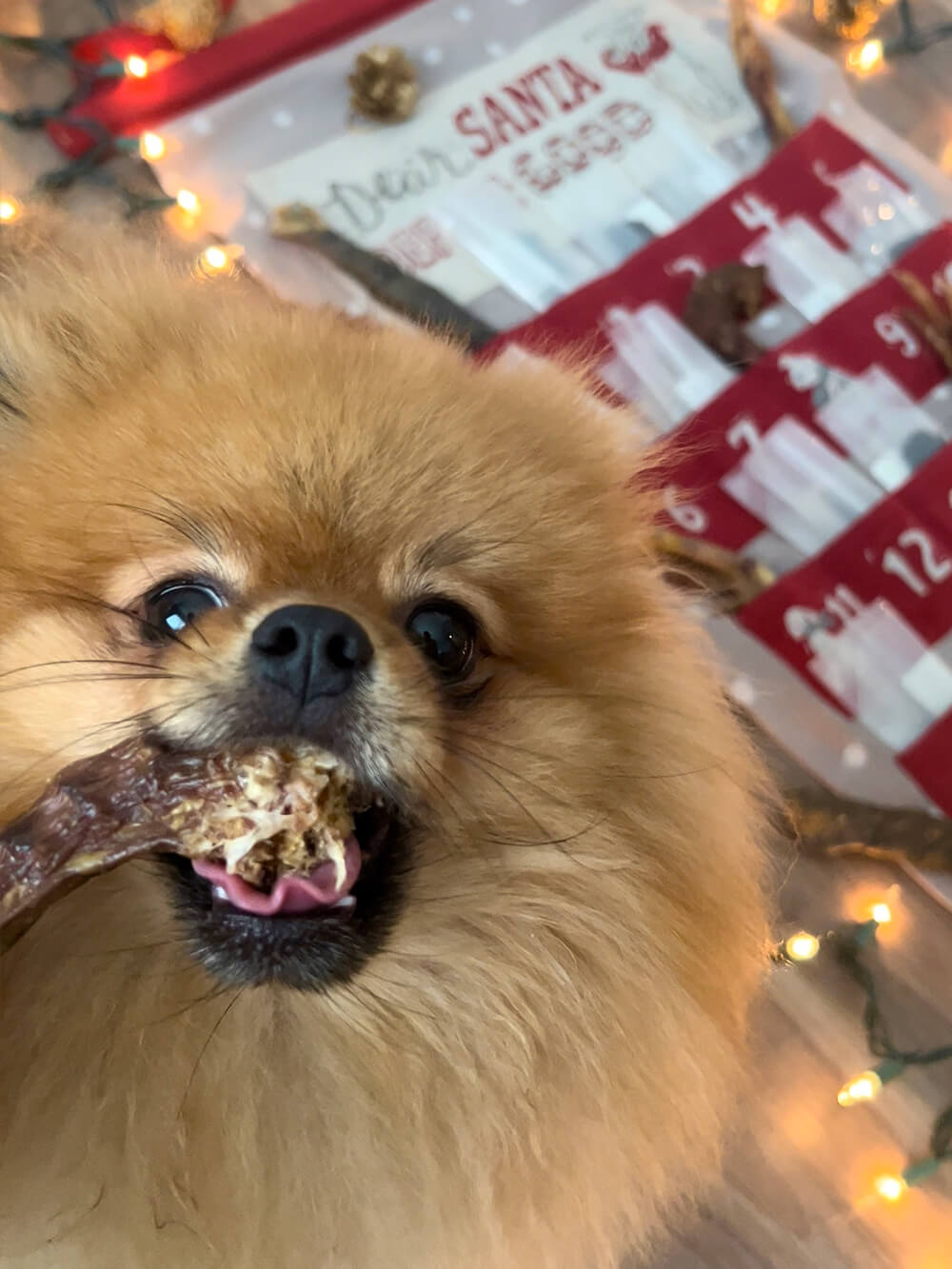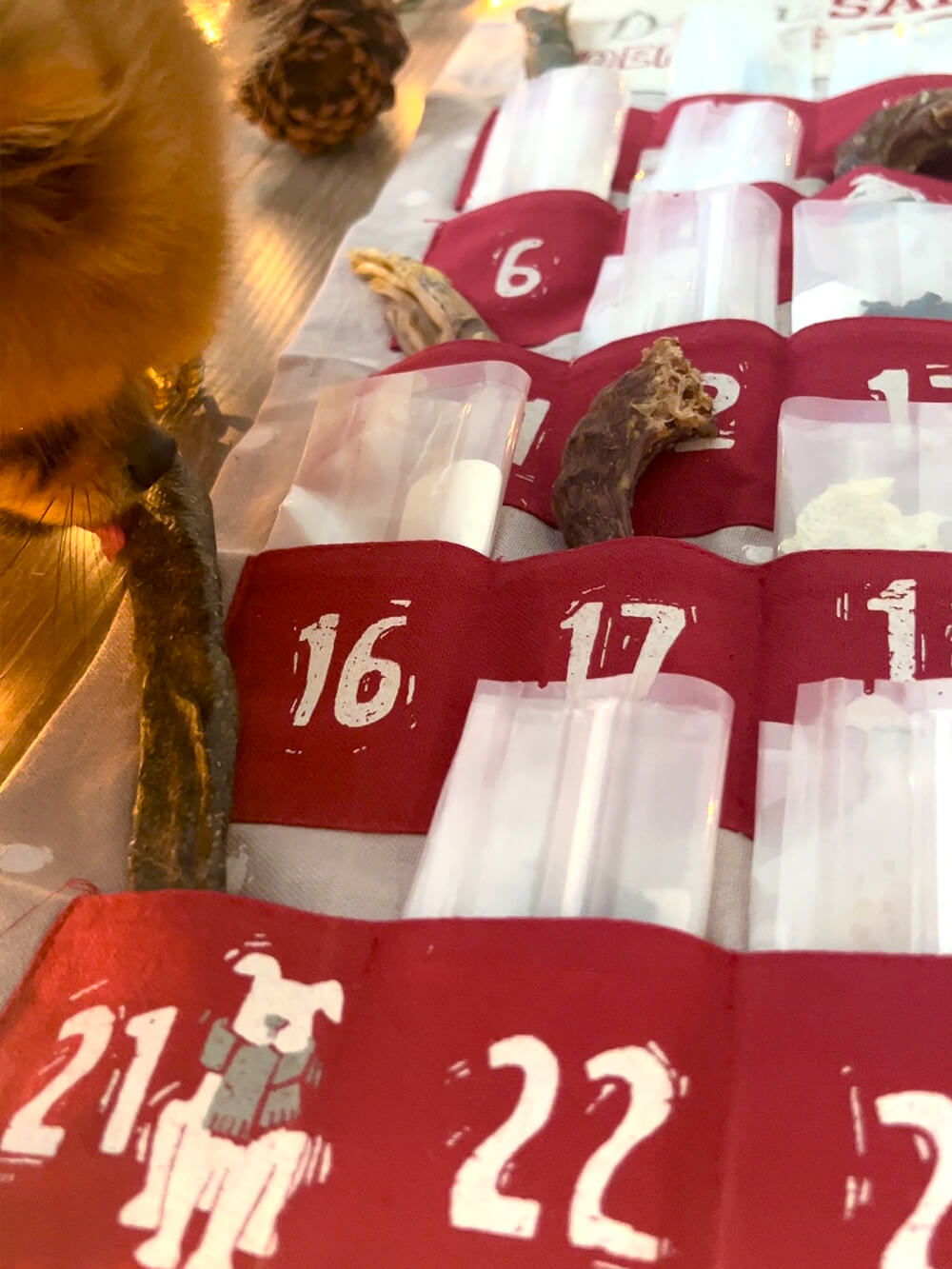 Dog Advent Calendar: A Tail-Wagging Countdown to Joy!
Your pup can indulge this holiday season without eating sugary, unhealthy treats! This advent calendar is the perfect gift for health-concious dog lovers.
Unleash the holiday spirit with our paw-some Dog Advent Calendar, designed exclusively for your Furever Loves. At Furever Love Club, we understand that your dog is an essential part of the family, and this festive season, they deserve a special treat-filled journey that is also healthy! 
🐾 Key Features: 🎅 25 Days of Delight: Our Dog Advent Calendar is thoughtfully crafted with 25 individual compartments, each holding a delightful surprise for your furry companion. It's the perfect way to make every day leading up to Christmas an exciting adventure for your dog.
🐶 Single Ingredient Treats and Chews: We believe in offering your pet the very best. Inside each compartment, you'll find single ingredient treats and chews that are not only delicious but also nourishing. We use only high-quality, wholesome ingredients to ensure your dog's health and happiness.
🎄 Festive Fun: The calendar is beautifully designed with a holiday theme that adds a touch of festive charm to your home. Your dog will feel the holiday spirit too!
📦 A Perfect Gift: Whether you're gifting this calendar to your own furry friend or to a fellow dog lover, it's an ideal present that'll bring joy and smiles throughout the holiday season.
🐕 Suitable for All Breeds and Sizes: Our treats and chews are suitable for dogs of all breeds and sizes, making it the perfect choice for every pup in your life.
🌟 Premium Quality: Furever Love Club takes pride in delivering top-notch quality in every product. Your dog's safety and happiness are our top priorities.
Count down to Christmas with Furever Love Club – where every day brings healthy joy to your furry best friend.
WHAT'S INCLUDED:
TREATS: 
• Chicken Breast - 4 
• Pork Shoulder - 4
• Beef Heart - 3
• Flounder - 3
• Bison Lung - 3
CHEWS: 
• Chicken Feet - 2
• Duck Feet - 2 
• Duck Trachea - 2
• Flounder Skin Roll - 2
As always, Furever Love Club treats & chews are: 
• Organic or pastured local farm ingredient
• 100% Compostable packaging
• No feed-grade ingredients
• Species Appropriate
• Hand made in the USA
• Small batch
• Non-GMO
• No preservatives, chemicals, or additives
• Ethically sourced
• Grain, gluten, byproduct-free
• Hormone & antibiotic-free
Delivery by Nov. 30th, 2022
Feed one pocket per day starting Dec. 1st
• Dimensions: 15.5" x 28.25"
• Material: Cotton, Wood
• Printed Text: "Dear Santa - Define Good"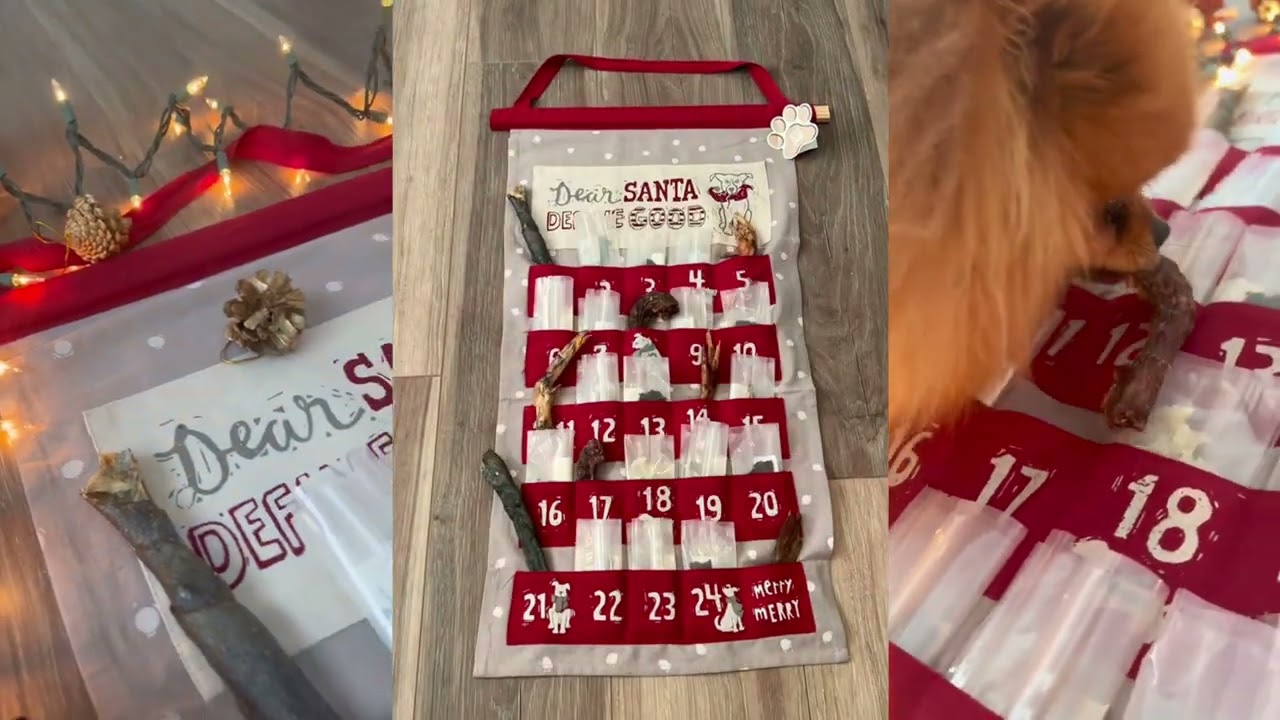 CUSTOMER REVIEWS
★★★★★
Best treats ever!
Jessica on Jul 30, 2022
Great products, customer service and support as well as love for our pets and the planet.