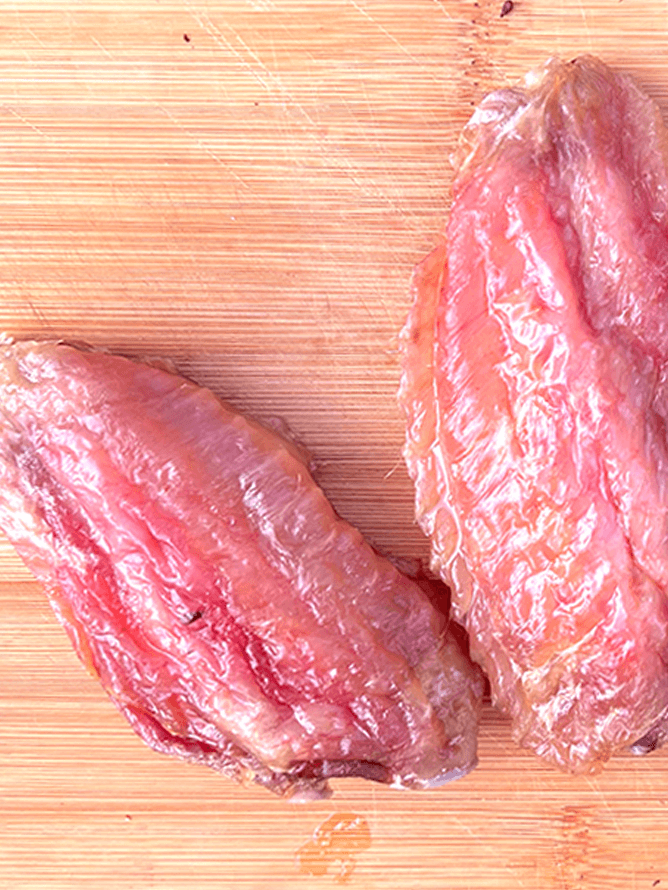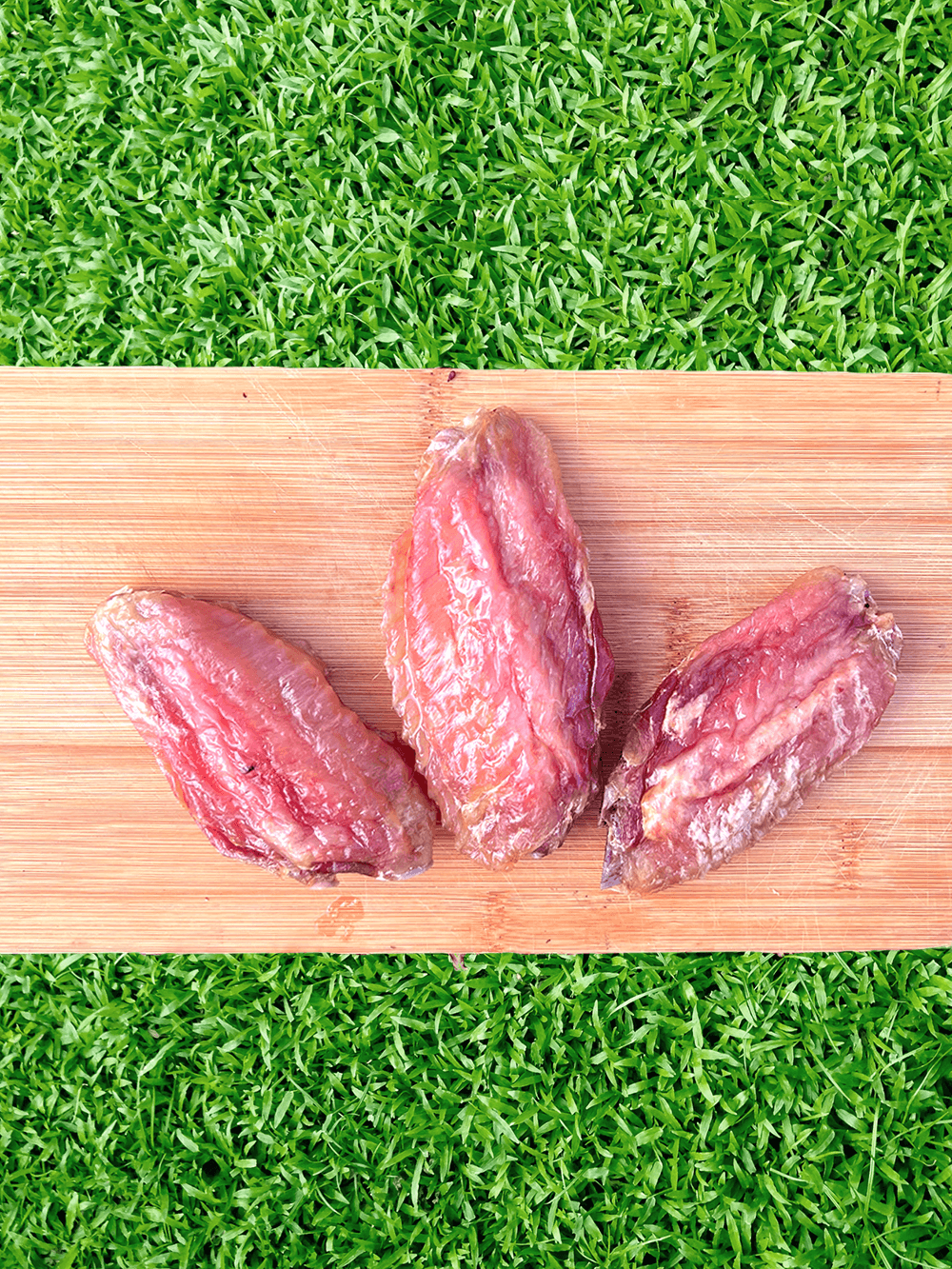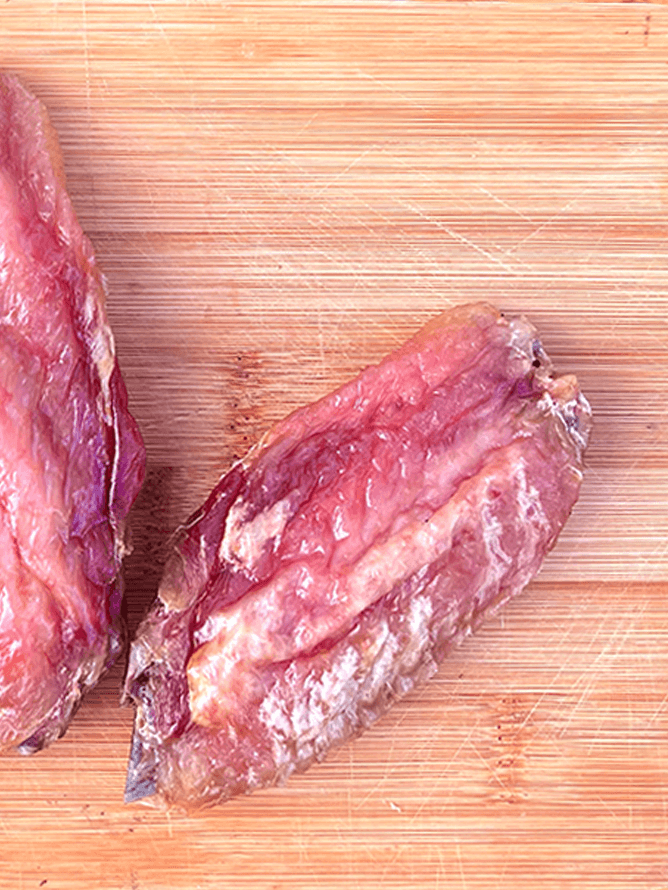 Turkey Wing Pastured Dehydrated Chews are single ingredient, so every chew is 100% turkey wing transparently sourced from local farms. Dehydrated turkey wing is species appropriate and nutritious. Click the +HEALTH BENEFITS tab below to learn more!
We know eco-friendly packaging is important to you, that's why this chew comes wrapped in compostable wax paper. Our mailers & boxes are made from 100% recycled materials too: good for our dogs, good for the planet.
Ingredients: 100% Pastured Turkey Wing
Organic local farm ingredient
Human-Grade Ingredient
Species Appropriate
Small Batch
Non-GMO
No Preservatives
Pasture Raised
Ethically Sourced
Hormone & Antibiotic-Free
• Calcium: Vital for overall growth, heart function, and nervous system health. An essential mineral for the formation of strong bones and teeth.
• Phosphorus: Keeps bones and teeth strong. Promotes kidney health and tissue growth.
• Glucosamine: Improves overall joint health and eases symptoms of arthritis. Increases mobility by reducing joint inflammation and stimulating the production of new cartilage.
• Vitamin B3 (Niacin): Promotes the production of growth hormones, aids with cognitive and kidney function, creates healthy skin & coat, and keeps your dog stress-free by triggering the release of corticosteroids.
• Vitamin B6 (Pyridoxine): Triggers hormone release for good mood, aids with healthy brain & heart function, and boosts red blood cell production & protein synthesis.
1. Natural Joint Support & Arthritis Prevention
Connective tissue and cartilage are an excellent source of glucosamine, which supports healthy joints. Glucosamine also prevents and slows the progression of arthritis.
2. Dental Health
Bones and cartilage are called nature's toothbrush for a reason. The chewing and gnawing is the most powerful tooth & gum cleaning a dog can get (other than a dental cleaning at the vet costing thousands of $$$).
3. Mental Simulation
Chewing and gnawing is an essential part of your dog's mental health. It releases the "feel good" chemicals in their brain: dopamine and serotonin. Chewing daily not only helps your dog with boredom, it helps them relieve anxiety and stay happy!
When introducing new chews:
- Do not give an entire new chew to your dog, even if they are a large breed. When introducing a new chew, take it away when a quarter or halfway (less for small breeds) done to ensure their system agrees with it.
- Start with 5 minutes of chewing and work your way up to 15 minutes maximum.
- Chewing should always be supervised.
Feed as a high reward treat
Use as a meal topper
Feed in moderation
Store in a cool, dark, dry place for 30 days (unopened). Once opened, keep in fridge or freeze for up to 6 months.